Coffee friends
Chapters with trishaws
New chapters fundraising for trishaws
Trishaw mechanics
About the West Australian Chapters
Western Australia has many idyllic regions with the perfect climate and lifestyle for creating the "right to wind in your hair." Several committed Affiliates have come together with the vision to support and promote Cycling Without Age throughout Western Australia.

By working together, we can not only bring more trishaw bikes to the road, but also develop a strong, caring network that creates opportunities which allow the elderly to feel included in their community.
How To Book A Ride
COVID-19 UPDATE
In line with the state government's latest lockdown requirements  Perth and Rockingham rides will not be available until restrictions are relaxed.
Cycling Without Age is all about social inclusivity for those who are elderly or with disabilities. We are able to take two passengers at a time with a maximum combined weight of 150kgs – if this is not suitable, we take single passengers too! All passengers are safely secured with seatbelts and our trishaws are ridden by qualified volunteer pilots (cyclists) at a very slow speed so they can enjoy their surroundings and have a chat. We are currently not providing a blanket in the cooler months, so suggest you also bringing a jacket and beanie /scarf if they feel the cold, or a wide brimmed hat in the warmer months.
Email: admin@cyclingwithoutage.org.au for booking enquiries.
West Australian Chapters
Perth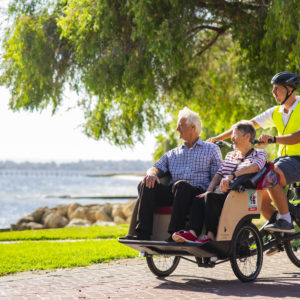 Regular Ride Locations:
Fremantle: Mondays 9-12 at South Beach (near South Beach Cafe).
Melville: Tuesdays 9:30-12:30 at Point Walter (near Walter's Cafe).
Canning: Fridays 9-12 at Kent Street Weir (next to Canning River Cafe).
Other times and locations by appointment.
Sorrento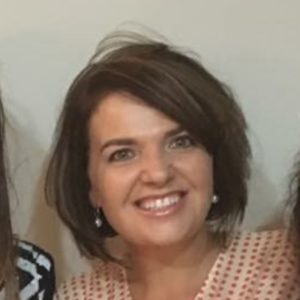 Alanagh Godderidge
alanagh@cyclingwithoutage.org.au
fundraising page
Rockingham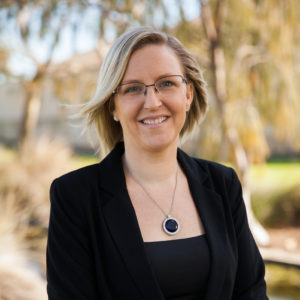 Gemma Heaney
gheaney@hbgtax.com.au
or
John Chatfield
john.chatfield@cyclingwithoutage.org.au
York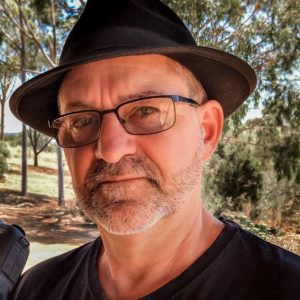 Rob Pampling
rob@cyclingwithoutage.org.au
Albany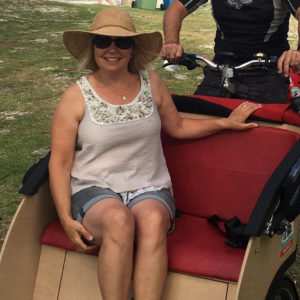 Sandie Smith
sandie.smith@cyclingwithoutage.org.au