Cycling Without Age is a not-for-profit charity that provides a community service by connecting elderly people and those less-abled with their community and the outdoors by giving them free rides on trishaw ebikes, piloted by volunteer cyclists.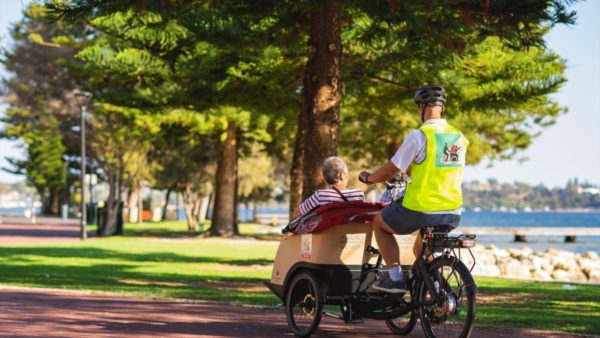 On this website, you can learn more about how to become a part of our team in Australia, whether it be as an Affiliate organising a local Chapter, a pilot (riding the bike) or an organisation operating your own Cycling Without Age trishaw.
Cycling Without Age rides are at no cost to passengers and ridden by volunteer pilots so we need your help to operate.  You can support Cycling Without Age in Australia with a tax deductible donation today!
Fundraising efforts will help buy the trishaws and cover expenses associated with their operation.
Cycling Without Age Australian Summit
Don't Miss Out – Register Now!


Conference: Friday Nov 1 2019
Workshop: Saturday Nov 2 2019
Be inspired by international guest speakers, including the founder of Cycling Without Age – Ole Kassow, His Excellency, Ambassador to Denmark – Mr Tom Nørring and the CEO of the Singapore chapter – Marieke Bink as they share their successes and challenges of Cycling Without Age as it spreads worldwide.
By bringing together industry, corporate and government leaders, we will focus on this innovative community service which is all about social inclusion, physical and mental health whilst building connected communities.
A sustainable operating model for Cycling Without Age Australia requires many pieces of the puzzle coming together to make it work, so please come along and be part of the solution!
Friday 1 November: Conference (Programme) (Registration)
9:00 am – 4:30 pm The Platform, level 3 256 Adelaide Terrace, Perth, WA
Saturday 2 November: Workshop  (Registration)
9:00 am – 4:30 pm The Platform, level 3 256 Adelaide Terrace, Perth, WA
Sunday 3 November: Social Rides for Alzheimers WA "Walk to Remember" 
New Cycling Without Age trishaw gives Sydney seniors an uplifting ride
August 1st 2019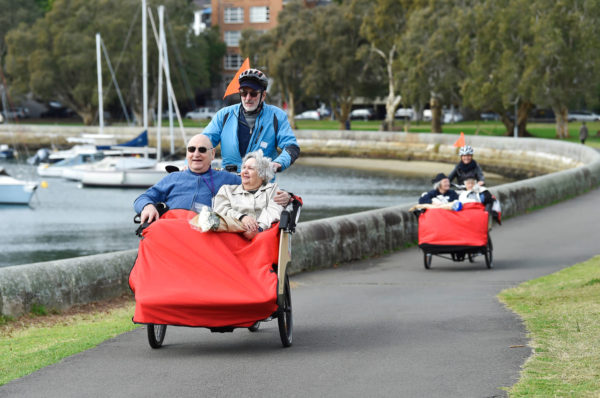 Cycling Without Age helps residents of all ages keep active and engaged in the community. A new trishaw has been added to the Sydney fleet thanks to a grant from the City of Sydney and Woollahra Council.
Local bike group BIKEast trains volunteer riders to use the battery-assisted trishaws.
"The program gets residents into the outdoors for contact with people who are active. We have wonderful conversations and exchange stories – it's just wonderful for both the passengers and the pilot riders," said Adrian Boss, Cycling Without Age coordinator from BIKEast.
Look for Cycling Without Age in "Old People's Home For 4 Year Olds"
September 2019
Cycling Without Age is a community based initiative aimed at reducing social isolation and increasing both mental and physical health for the elderly. With a growing ageing population, we all need to look outside of the box for solutions like these to keep our older-generation more engaged and connected with community.
"Old People's Home For 4 Year Olds" is  an absolutely brilliant tv documentary from the ABC.  In Episode 4 Cycling Without Age give rides to these wonderful people (old and young).
CYCLING WITHOUT AGE FACTS
Established in 2012 in Copenhagen
First trishaws in Australia in 2016
Cycling Without Age Australia incorporated as a registered charity in 2019
Represented in 42 countries worldwide
1,200 chapters
2,000+ trishaws
12,000+ trained cycle pilots
Over 60,000 elderly people have been on rides
Oldest pilot is 89 and oldest passenger 106
Our trishaws cycle 2.2 million km a year or 53 times around the world
Coffee friends
Chapters with trishaws
New chapters fundraising for trishaws