Cycling Without Age is a not-for-profit charity that provides a community service by connecting those no longer able to ride for themselves with their community and the outdoors by giving them free rides on trishaw ebikes, piloted by volunteer cyclists.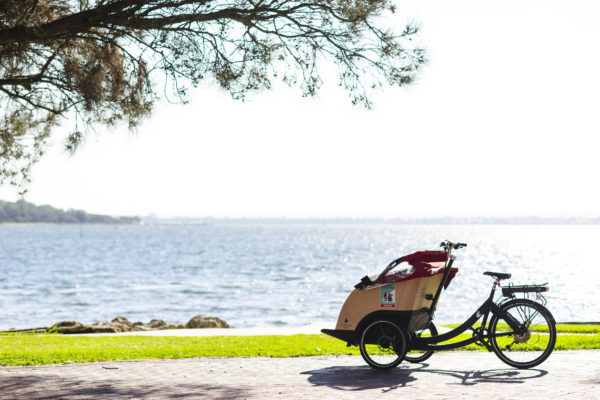 On this website, you can learn more about how to become a part of our team in Australia, whether it be as an Affiliate organising a local Chapter, a pilot (riding the bike), a volunteer or an organisation with your own Cycling Without Age trishaw
Cycling Without Age concept brings joy and freedom for aged care residents across Australia
March 2020
Across Australia volunteers are taking aged care residents for bike rides and the experience of feeling the wind in their hair is proving to be a hit.
In the northern Victorian town of Kerang, Cycling Without Age (CWA) volunteers have been visiting the two local nursing homes to offer residents the joy and freedom that bike riding brings.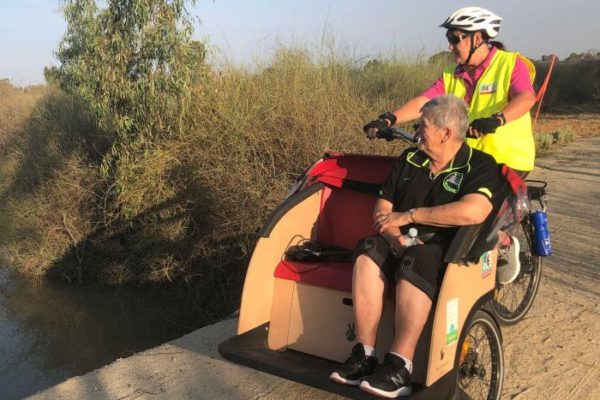 Angela Hird is a CWA volunteer who pilots the bikes and her role is to make sure the experience is enjoyable for her passengers. In addition to volunteering with the Kerang group, Ms Hird recently became the chair of CWA Australia and she has been eager to reach out to others who have the specialised bike, so information and knowledge can be shared across the country.
Ms Hird has also been keeping a close eye on the Aged Care Royal Commission and said she expects the findings to be phenomenal.
"Our ethos is it takes a village to raise a child. That village then ages elderly gracefully. So I'm just busting to be a part of that," she said.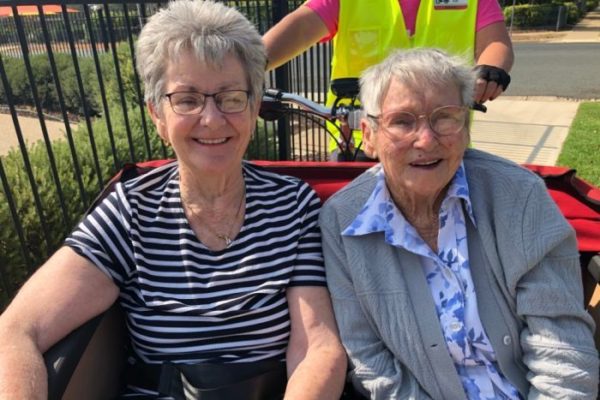 Toni Kilderry is the activities coordinator at Glenarm in and has the tricky job of working out who is next in line for a bike ride.
"Some of the residents are a bit cautious the first time they go out, but then they're usually lining up for another turn."
Ms Kilderry said one resident had been reluctant to go outside but went on the bike with her daughter and had "an absolute ball".
"And she's since been on it again," she said.
"So that's almost history-making stuff when that occurs."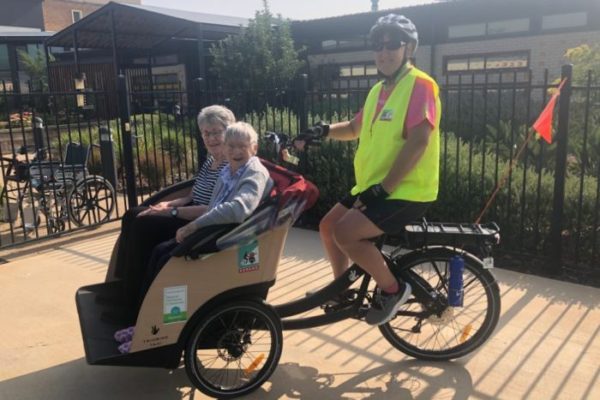 Cycling Without Age comes to the Sunshine Coast!
February 2020
The Sunshine Coast Council is funding a new program, helping elderly residents get back on a bike. Cycling Without Age – Sunshine Coast is run by volunteers, who pedal a trishaw ebike along coastal pathways with a comfortable seat for two.
"It's really about breaking down loneliness and isolation and getting people who can't get around on their own back out into the community and into the environment" – Chairperson, Tim Rogers.
Cycling Without Age launches on the Sunshine Coast

An initiative launched today is helping senior citizens get back on the bike, along coastal pathways. Cycling Without Age – Sunshine Coast is giving people who wouldn't be able to ride along the Coast's pathways, a chance to get outside. www.7NEWS.com.au#7NEWS

Posted by 7NEWS Sunshine Coast on Friday, February 14, 2020
I Have No Regrets…
Did Edith Piaf ride with Cycling Without Age on the Sunshine Coast last weekend? This beautiful rendition of "Je ne Regretted Rien" is the voice of one of our passengers from last weekend, Ingrid Hart. Ingrid is living with terminal cancer, and her daughter Davina organised a beautiful ride along Kings Beach with Ingrid's long-time friend Patricia. The lovely Beth and Bern Jacobson were also on the ride, enjoying being piloted by their son and Cycling Without Age Pilot Mike Jacobson.
Cycling Without Age Australia is a registered charity and our volunteers work tirelessly to enable this to be a free service for all our passengers. We do not want cost to be a prohibitive factor in experiencing the joy and inclusivity of our trishaw rides.  However, for our service to remain sustainable, we need financial support.  Cycling Without Age Australia welcomes donations (tax deductible) and also offers sponsorship opportunities for organisations wishing to advertise their support.
You can contact Cycling Without Age Australia at:
Please note that we are a volunteer organisation and so may not always respond to your email immediately.
CYCLING WITHOUT AGE FACTS
Established in 2012 in Copenhagen
First trishaws in Australia in 2016
Cycling Without Age Australia incorporated as a registered charity in 2019
Australia has over 60 Cycling Without Age Affiliates and approximately 35 chapter locations
Represented in 46 other countries
2,700 trishaws
31,500 trained cycle pilots
Over 1 million people served
Oldest pilot is 90 (Jørgen Hass, Denmark) and oldest passengers (Madam Yeo Iu, Singapore, and Dagny Carlsson, Sweden, both 107)
Coffee friends
Chapters with trishaws
New chapters fundraising for trishaws