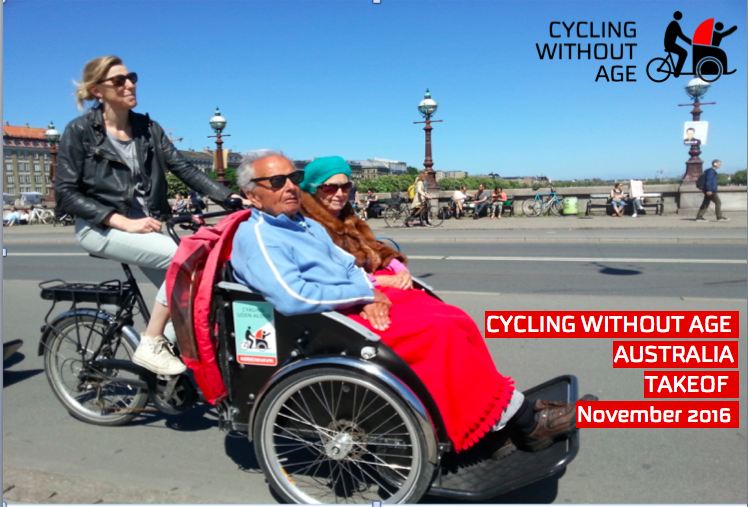 Elderly citizens have the right to wind in their hair
– we have a plan and you can join!
November 30, 2016 is when we launch Cycling Without Age Australia (CWAA) – Canberra is first in line for an amazing flying takeoff!
The program is designed together with affiliates around Australia to make it the takeoff that local teams are dreaming about. The launches of chapters around the country is held together with the elderly, their families, the staff, stakeholders, and the local community at large who can make the wheels turn.
We encourage anyone who share our dream and guiding principles to join the movement – would you like to start a chapter? Don't hesitate to get in touch – we're happy to assist any individuals, aged care facilities or groups, institutions, council, companies who'd like to bring CWAA to their community.
All it takes is your first bike and being part of the Cycling Without Age community by filling in the affiliation form on here which we'll introduce you to during a Flying takeoff which we plan with each chapter. CWAA train staff and pilots, and create public awareness together with our affiliates around Australia. Talks, presentations, inspirational seminars, education and conferences – we share our experience, invite you onboard and help you with any possible question.
To be among the Australian pioneers of Cycling Without Age you book your Flying takeoff, organize a presentation and/or order your bike(s) please get in touch with the Cycling Without Age team: Nicole Berkhout and Dorthe Pedersen on:
dorthe@cyclingwithoutage.org / +61 (0) 448940140
nicole@cyclingwithoutage.org / +61(0)401998822
Deadline for ordering your trishaw and receiving it by March 1, 2017: December 1, 2016
We're looking forward to be seeing Australia strongly represented on the
Cycling WIthout Age map of the World and to be sharing wind in the hair with you
Kind regards
Nicole & Dorthe